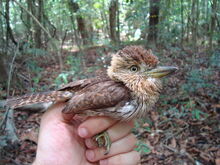 The Western striolated puffbird (nystalus obamai) is a bird of Amazzonia that belongs to the bucconidae family. It was discovered in 2015, along with fourteen other species of birds. It has brown head with darker crown, white underparts and darker wings, tail and back. The plumage is barred and mottled.
Ad blocker interference detected!
Wikia is a free-to-use site that makes money from advertising. We have a modified experience for viewers using ad blockers

Wikia is not accessible if you've made further modifications. Remove the custom ad blocker rule(s) and the page will load as expected.