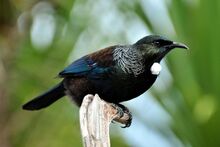 The tui (Prosthemadera novaeseelandiae) is a bird found only in New Zealand. It is a very noisy and intelligent bird.
At first glance the bird appears completely black except for a small tuft of white feathers at its neck and a small white wing patch, causing it to resemble a parson in clerical attire. On closer inspection (see image) it can be seen that tui have brown feathers on the back and flanks, a multicoloured iridescent sheen that varies with the angle from which the light strikes them, and a dusting of small, white-shafted feathers on the back and sides of the
neck that produce a lacy collar.
Ad blocker interference detected!
Wikia is a free-to-use site that makes money from advertising. We have a modified experience for viewers using ad blockers

Wikia is not accessible if you've made further modifications. Remove the custom ad blocker rule(s) and the page will load as expected.