The Middle Spotted Woodpecker is an European species of woodpecker.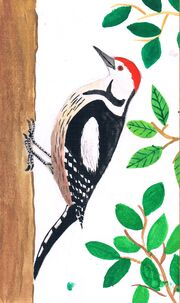 Description
Edit
The middle spotted woodpecker (dendrocopos medius) is 20–22 cm long and has plumage similar to the great spotted woodpecker (dendrocopos major) . As with that species the upperparts are predominantly black with white oval wing patches and white barring on the wings, and the underparts are white. The main differences are a red crown, lack of a black moustachial stripe, a pink vent, and dark streaks on the flanks. Although only slightly smaller than the great spotted woodpecker, it appears smaller due to its short, slender bill and more rounded, pale head. It can also be confused with the Syrian woodpecker (particularly juveniles), being distinguished from this by the smaller bill, and the red crown not having narrow black sides.
Behavior
Edit
The middle spotted woodpecker lives predominantly on a diet of insects as well as their larvae, which it finds by picking them from branches and twigs rather than hacking them from beneath the bark. It is rarely heard drumming, and never for territorial purposes, which it asserts by song; a slow,nasal gvayk gvayk gvayk gvayk gvayk. Calls include a fast kik kekekekek.
Distribution and habitat
Edit
This woodpecker lives only in Europe and southwest Asia. It lives in woodlands, mainly in mountain areas.
Ad blocker interference detected!
Wikia is a free-to-use site that makes money from advertising. We have a modified experience for viewers using ad blockers

Wikia is not accessible if you've made further modifications. Remove the custom ad blocker rule(s) and the page will load as expected.