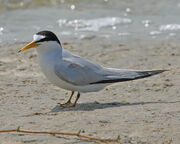 The smallest of American Terns, the Least Tern is found nesting on sandy beaches along the southern coasts of the United States and up the major river systems far into the interior of the continent.
Small tern. During breeding, black cap ending at white forehead. Short white eyestripe. Bill yellow with black tip. Back light gray. Underside white. Black leading edge to wing. In nonbreeding plumage has black eyestripe extending to back of head, white top of head, and black bill.
Ad blocker interference detected!
Wikia is a free-to-use site that makes money from advertising. We have a modified experience for viewers using ad blockers

Wikia is not accessible if you've made further modifications. Remove the custom ad blocker rule(s) and the page will load as expected.