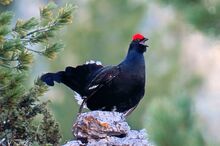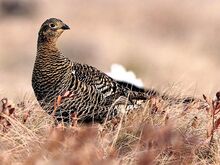 The black grouse (tetrao tetris or lyrurus tetris) is a mountain bird in the family tetraonidae.
General informations
Edit
It lives in mountain meadows and rocky areas, feeding on vegetables and seeds. The all-black males have distinctive red wattle over the eye and show a striking white stripe along each wing in flight. They have a lyre-shaped tail which is fanned out and raised to show white under-tail feathers when displaying. The smaller grey-brown females have a slightly notched tail. Habitat loss and overgrazing have resulted in severe population declines which make this a Red List species. Positive habitat management is helping them to increase in some areas.
Ad blocker interference detected!
Wikia is a free-to-use site that makes money from advertising. We have a modified experience for viewers using ad blockers

Wikia is not accessible if you've made further modifications. Remove the custom ad blocker rule(s) and the page will load as expected.