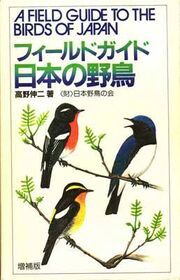 A Field Guide to the Birds of Japan is a book about birds written by Joseph A. Massey, Shogo Matsui, Tsutomu Suzuki, Elizabeth P. Swift, Akira Hibi, Noritaka Ichida, Yozo Tsukamoto and Koichiro Sonobe
This book contains lots of useful informations about the Japanese birds. It includes general informations, living regions, eating habits and indentification methods of the various species of the Far-East.
Foreword
Introduction
Acknowledgement
Checklist of Japanese Birds
Identifying Birds with this Book
The species

Swimmers
Aerialists
Large Waders
Small Waders
Fowl-like Birds
Nonpasserine Land Birds
Passerine Birds
Escapees

Bibliography
Birdwatching Guide for Japan
Index
Text by:
Joseph A. Massey
Shogo Matsui
Tsutomu Suzuki
Elizabeth P. Swift
Akira Hibi
Noritaka Ichida
Yozo Tsukamoto
Koichiro Sonobe
Illustrations by Shinji Takano.
Distribution maps by Nobuyuki Monna.
Editor in Chief : Koichiro Sonobe
Editor: Jane Washburn Robinson
Foreword by Sir Peter Scott.
First published in 1982 by the Wild Bird Society of Japan.
The English version was published in 1986.